Tustin Family Law Lawyer
Family law issues are some of the most emotionally intense issues the legal system handles. For so many people in Tustin, CA, there's nothing more important to them than family. Family law issues, though, tend to be involved with tumultuous family circumstances and are often associated with the upheaval of the family. This can create a lot of stress, which is only intensified by the uncertainty of the situation. At these times, you need help that you can trust. You need someone who will be upfront and honest with you about the reality of the situation but who will also have the compassion to realize how hard it can be to face what you're facing.
At Moranda Law Firm, APC, we bring a compassionate, trustworthy approach to handling our clients' cases, paired with a deep understanding of the law in regard to these issues and a tenacious desire to seek what's ideal for our clients.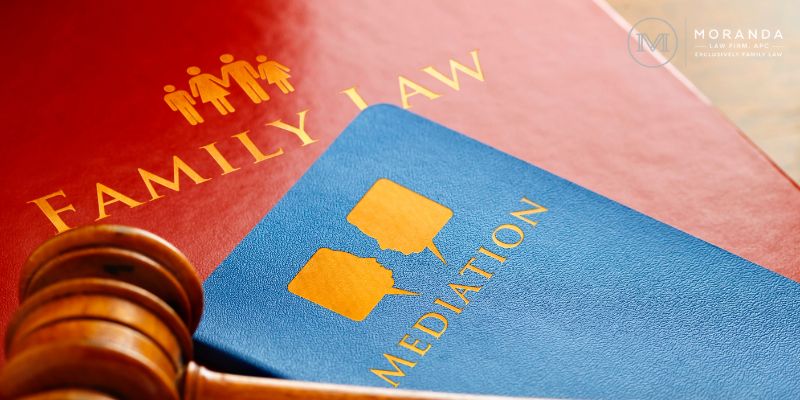 Family Law Issues
Family law is a segment of law that focuses on the structure of the family and how the components should relate to each other. The law, though, generally exists to deal with conflict and disagreement. Family law, unfortunately, is no exception. Because family matters so much to people, tensions can run high when such substantial decisions about the family are being made. We can help with a variety of issues in a way that's respectful of the stressful nature of the situation while still aggressively pursuing our client's interests.
Divorce
Even the most amicable of divorces can still be a very raw, emotional time. The process, too, is not a quick one, as at least six months must pass between the papers being served and the divorce being finalized. We are here to help our clients through the entire process. If the divorce is on the more amicable side of the spectrum, we are able to help facilitate a negotiating process that settles most of the major concerns in the divorce, such as child custody, property division, and spousal and child support, outside of court.
A judge will still need to sign off on the separation agreement, but our experience can be helpful in putting together something that they are likely to accept without alteration. If the divorce is on the more contentious end of the spectrum, and it's going to be necessary to make your case before a judge, we're ready to put forth a strong, impactful case in our clients' favor.
Child Custody
Nothing is tougher and more nerve-wracking for parents than anything involving their children. Certainly, parents want what's right for their children, but it can be very difficult when separated or divorced parents don't agree on exactly what that may look like. California law requires that judges only make custody rulings that are in the child's interests, so it's important that any custody arguments in court start with an explanation of their effect on the child's welfare. This requires a persuasive, knowledgeable lawyer, and with Moranda Law Firm, APC, you can find convincing, effective legal help in addition to a passion for fighting for our clients and their children's interests.
Child Support
Determining the right amount of child support can be a complex process, as there's no perfect formula for figuring out exactly what should be paid. The process can become all the more difficult when one parent or the other feels that the custody or visitation isn't fair, along with an unfair child support amount. We can help with all aspects of the child support process, whether you are paying or receiving. We can help negotiate initial child support agreements that a judge will likely approve, and we can also help reopen a child support case and petition the court for modifications as appropriate.
Domestic Violence
At Moranda Law Firm, APC, we fight for people who have been wrongfully accused of domestic violence. Few things can be more unnecessarily disruptive to a family than false accusations of domestic violence. Just the accusation will often result in a temporary restraining order out of an abundance of caution on the part of the courts. However, this can mean pulling a person out of their home and away from their children. If you've been falsely accused of domestic violence, you need a legal team that will fight to have your name cleared. That's something we can help with.
Fathers' Rights
According to California Law, the courts are not supposed to show any favorability to the mother over the father in any court judgments regarding children. They are simply supposed to rule in favor of the child's welfare from the assumption that both parents having an equal role in the child's life is the optimal arrangement. Deviation from that dynamic can be justified based on either parent's ability to give the children the attention and care they deserve, but not based on the sex or gender of the parent. However, it's important that these rights be fought for, lest the court falls back on familiarity and the past history of not giving fathers the right to be involved in their children's lives as they should be and are allowed by law.
Family Law Attorneys FAQs
Q: Is Working With a Family Law Attorney Expensive?
A: Working with any attorney could be expensive in certain situations, but it doesn't always have to be. At Moranda Law Firm, APC, we try to ensure we have reasonable rates by taking a budget-conscious approach to help families. We aren't a large firm, so our overhead costs are quite low. Those savings are something that we can pass on to our customers. While our services are more affordable for families, we also don't skimp on the attention and care that we give your case. We are here to help families through what can be some very stressful situations. We try to make sure that financial concerns don't add to the stress.
Q: What Can a Family Lawyer Help With?
A: As a firm that is focused on family law issues, there is much that we can help with. We help with divorce, child custody, child support, and paternity issues. We also help to ensure that fathers' rights are protected and fight for fathers to have the opportunity to be there for their children. In addition, we defend those who have been falsely accused of domestic violence. With occasional exceptions, family law issues are associated with challenging, stressful times for families. Therefore, part of what we try to do is make the legal aspects of these issues as straightforward and understandable as possible. We want to help keep conflict to a minimum and keep from adding to the burdens of such difficult times.
Q: Do I Need a Lawyer for Orange County Family Law Issues?
A: You could attempt to represent yourself in family law issues, but ultimately, it will be much more difficult to achieve an optimal outcome. It may save a little bit of money, but family law issues are often some of the issues that are most important to people. Given that whoever you are opposite in these cases is likely to have a lawyer representing them, not having one could be putting you at a severe disadvantage. Many family law cases can be decided based on nuanced understandings of the law. Often, the most important things are those skills that come from experience studying and practicing family law. With things that are as important as what can be on the line in a family law case, you owe it to yourself to work with representation you trust.
Q: What Elements of a Divorce Can a Family Lawyer Help With?
A: A good family lawyer can help with every aspect of the divorce process from beginning to end. Every divorce is a little different, and it can be particularly helpful to have someone with a depth of understanding of the legal process. Another significant part of the divorce can be the negotiation, as it can be cheaper and faster if both parties can work together to commit to the negotiation of an agreement on major issues. A lawyer can help with this process by understanding what their client is seeking, setting expectations, and helping to keep negotiations reasonable and respectful. At the same time, if negotiation isn't going to be a viable option, a family lawyer can be prepared to argue their case in open court.
We're Ready to Help With Your Family Law Concerns
Family law can be a broad category of issues, but when it comes to needing a lawyer, there are a few things that are consistent, no matter the issue. Family law requires a lawyer who is knowledgeable and experienced with the issues at hand. If you have a family law concern, you'll also want a lawyer who is a good listener. You'll want them to pay attention to what you're seeking and what matters most to you in the situation.
We make sure we bring our experience and our genuine compassion and concern to every case we manage. We understand that family law issues can often be difficult for families, but it's our hope to find outcomes that are as good as can be hoped for given the circumstances. Contact us today to set up a consultation about your family law concern.