Domestic Violence Attorney in Anaheim, CA
Domestic violence is an unfortunate reality for thousands of people living throughout California. When anyone experiences domestic violence of any kind, the family court system and the criminal justice system of California will help the victim secure the protection they need to prevent further harm. However, some people take advantage of these systems in various ways, sometimes filing false reports to gain a legal advantage in a divorce or child custody determination.
Call our firm if you have been falsely accused of committing an act of domestic violence in Anaheim, CA. The team at the Moranda Law Firm, APC, limits its practice exclusively to family law, so we understand the specific challenges you face after such an accusation.
Being wrongfully accused of domestic violence requires zealous representation to defend you against a protective order. Likewise, prosecuting a request for domestic violence can be daunting, especially for those culturally deemed "imperfect" victims and/or male victims. An experienced family law attorney with a record of success advocating for your best interests is crucial in these situations.
Finding legal representation you can trust is essential to prevent a protective order from interfering with your life. Many domestic violence incidents are difficult to prove, and it's relatively easy for an aggressor to assert that their victim started an altercation when they were actually defending themselves. It's also possible for someone to completely fabricate an incident of domestic violence, which is more common than many may expect in divorces and child custody disputes.
The team at Moranda Law Firm, APC, provides the client-focused legal representation those falsely accused of domestic violence require to navigate their cases effectively. It can feel as though the entire legal system is working against you when you have been falsely accused of committing domestic violence. You may be forced to leave your home and lose standing in your community simply because of the accusation, even if the accusation is entirely false. We can provide the small firm attention and big firm fight you need to approach this difficult case with confidence and peace of mind. We limit our practice exclusively to family law, so we understand the specific challenges you face.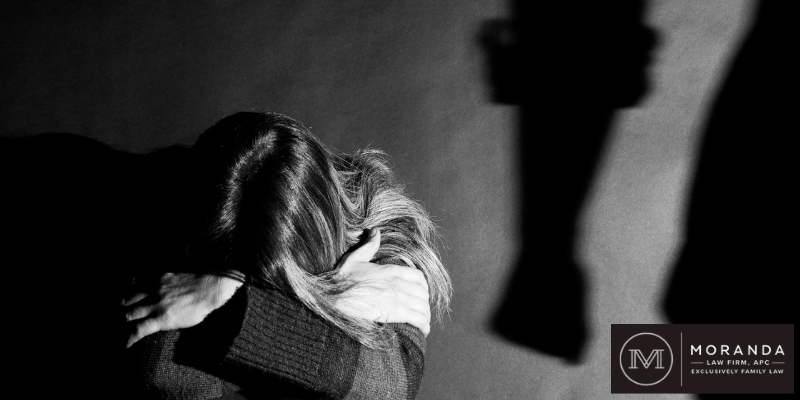 What Is Domestic Violence?
The term "domestic violence" is quite broad and can apply to various criminal acts committed against family members, close relations, and members of the same household. For example, a simple assault occurs when one party presents a threat of intentionally inflicting harm to another party. However, if this incident occurs between members of the same family or household, the incident is a domestic assault; the perpetrator faces harsher penalties than they would for a standard simple assault charge. Parties involved in domestic violence cases typically include:
Spouses and domestic parents
Divorced or unmarried co-parents
Parents and children
Siblings and extended family members
Roommates and housemates
Current or former romantic partners
"Domestic violence" applies to various types of behavior that may occur between such parties. Many cases involve physical violence, while others pertain to sexual abuse, terroristic threats, emotional abuse, and harassment. Stalking can also qualify as domestic violence, even if the perpetrator and the victim do not live together.
Domestic Violence and Restraining Orders
A protective order is one of the primary legal mechanisms used to address domestic violence in California. When a person notifies the police that they have experienced domestic violence of any kind, the police have a legal duty to prevent further harm to the victim and will likely arrest the alleged aggressor. They may also remove the aggressor from the home, forcing them to stay elsewhere until their court date if the situation does not call for immediate arrest.
When a domestic violence incident is reported, the victim will likely secure a temporary restraining order from the Anaheim court system. This order will prevent the alleged aggressor from contacting the victim or coming into close proximity to their person, home, and place of work.
If you have been falsely accused of committing domestic violence, a restraining order could mean being forced out of your home and away from your children. It's easy to feel as though the system is biased against you on nothing more than the accuser's word. You need legal representation you can trust in this situation. That same bias can prevent some domestic assault victims from coming forward, fearing they will be seen as unreliable.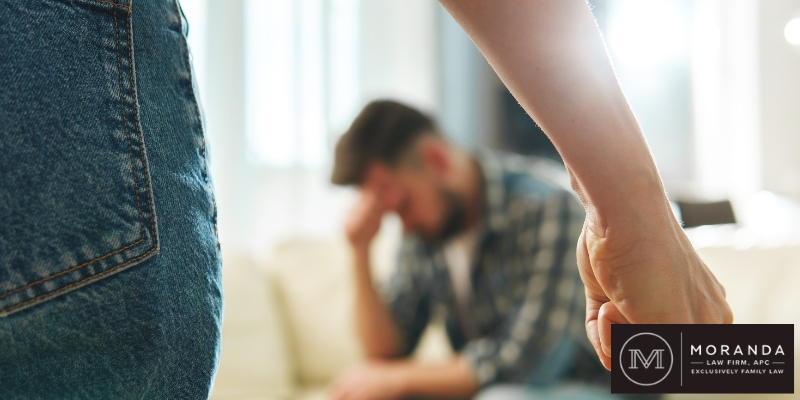 How Your Anaheim Domestic Violence Attorney Can Help
It's easy to feel trapped in your situation when you have been arrested and/or removed from your own home after a false accusation of domestic violence. Many of these cases boil down to one party's word against the other's, and the legal system inherently leans toward protecting an alleged victim rather than proving an alleged aggressor's innocence. Unfortunately, many people in this situation face an unfair presumption of guilt they don't know how to address.
When you choose the Moranda Law Firm, APC in Anaheim, CA, to represent you, we will carefully review your situation to determine your best options for defense. We will determine whether any witnesses could provide valuable testimony that disproves the accusations against you. If you were accused of initiating domestic violence when you only acted in self-defense, we can work with medical professionals to prove you sustained defensive wounds. Ultimately, you could have many more options for approaching this case than you initially realized.
Attorney Beverly Moranda is a Certified Family Law Specialist with years of experience representing clients in difficult family law cases in Anaheim, CA. Our team believes in providing client-focused legal counsel in every case we accept. We'll work closely with you to determine your best defensive options and guide you through the procedures necessary to fight a restraining order's unfair implementation.
Our team also has extensive experience handling a wide range of other family law cases, such as divorces and child custody determinations as well. In the event your spouse or co-parent falsely accused you of domestic violence to gain a legal advantage over you in your family court case, call our firm. We can not only help you disprove their allegations but also help ensure the court pays appropriate attention to their actions. A false accusation of domestic violence can potentially lead to substantial penalties for the party that filed the false accusation. We'll do everything we can to ensure the maximum penalty for such abuses of the family court system.
It's natural to feel isolated and uncertain about your legal options when you have been falsely accused of committing an act of domestic violence. Moranda Law Firm, APC, provides client-focused legal counsel in every domestic violence case we accept. We can answer your most pressing legal questions and help you gather the evidence you need to disprove a false accusation of domestic violence.
If you are ready to discuss your case with an Anaheim domestic violence attorney, contact us today and schedule a free consultation with our team.