Divorce Attorney in Anaheim, CA
Ending a marriage is a major life event, and the outcome of a divorce case has the potential to affect you in various ways and for many years. No matter the underlying reason for your divorce, it's vital to understand the legal mechanisms as your divorce case unfolds. An experienced Anaheim divorce attorney is essential to this difficult situation.
Attorney Beverly D. Moranda and the Moranda Law Firm, APC, team, strive to provide the small firm attention and big firm advocacy you need. We have years of experience representing Southern California clients in a wide range of divorce cases. Attorney Beverly D. Moranda is a Certified Family Law Specialist who can help you effectively address the most challenging aspects of your impending divorce case. When you work with us, expect a zealous and meticulous approach to your divorce case.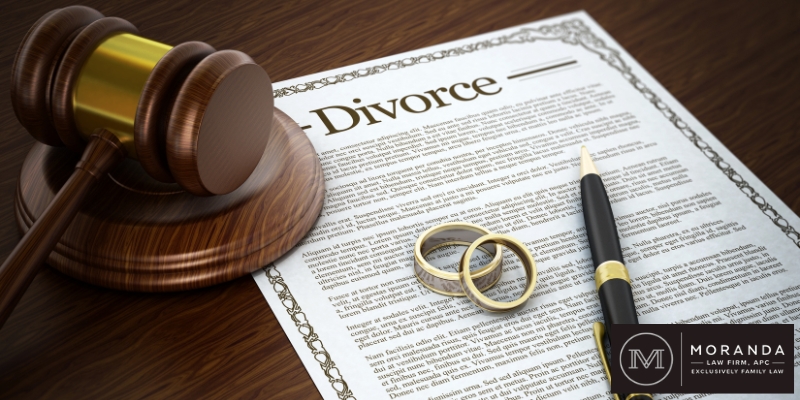 Why Do I Need an Anaheim Divorce Attorney?
Representing yourself in any legal proceeding is difficult and incredibly risky. Family law is a particularly complex area of law, even in the "simplest" of divorces. Understanding your rights, obligations, risks and implications of a particular course of action, and what you may be giving up is essential even if your case seems relatively straightforward. While you may be concerned about the potential cost of your legal fees, know that you are investing in your own future when you hire an experienced Anaheim divorce lawyer. Further, options available may enable you to obtain a contribution towards your legal fees from the other party
Going through a divorce is difficult enough in and of itself. Going through it without experienced counsel can adversely affect your life long after your divorce is over. Instead of trying to manage a complex area of law on your own, let the experts do the work for you as you tend to your personal and professional life. Working with the right attorney can dramatically increase your chances of success with your case, ultimately helping you reach the best possible outcome for your case. You will be able to approach each phase of your divorce with the confidence that comes with knowing you have trustworthy legal counsel readily available to assist you.
Complex Divorce Cases
Some divorces are, in fact, more complex than others and the stakes are especially high in these types of cases. If you or your spouse own a business, substantial assets and/or property, have substantial investments, high net worth and/or major disputes regarding custody, it is imperative that you have an experienced, zealous, and meticulous family law specialist in your corner. Resolving complex divorce cases fairly and reasonably, whether by settlement or litigation, is often a long and difficult process. It is essential to work with a skilled and experienced Anaheim, CA divorce attorney every step of the way, as the process and the outcome will impact the rest of your life.
The team at Moranda Law Firm, APC, is equipped to assist you in your complex divorce in Anaheim, CA. Led by Attorney Beverly D. Moranda, a certified family law specialist, the team at Moranda Law Firm, APC, understands the issues and the importance of involving financial, forensic, real estate and/or custody experts in complex dissolution matters. We understand that every case is unique and must be evaluated on its own facts and circumstances. We understand the importance of working closely with you to develop a comprehensive strategy that addresses your unique needs. We understand that the stakes are high and that the outcome matters. We are knowledgeable, meticulous, and results driven.
Divorce Litigation
Alternative dispute resolution isn't an option for all couples, particularly if one or both spouses are unwilling to negotiate fairly and reach a reasonable compromise. While most cases settle before trial, sometimes trial is the only way to obtain a judgment for dissolution of marriage. Trial may involve litigation of all issues, several issues, and sometimes, litigation is only required for resolving specific aspects of a divorce case.
Divorce litigation unfolds similar to litigation in any other type of civil case. It is imperative to retain an experienced litigator who is well versed in the Evidence Code, Family Code, Code of Civil Procedure, California Rules of Court, Local Rules, and the ample and ever-changing case law that impacts family law proceedings. Failure to abide by any of the many deadlines and/or procedural and evidentiary requirements pertaining to your matter could be fatal to your case.
When you litigate your divorce in California, the judge has the final say on every litigated aspect of your case. Having a skilled, experienced divorce lawyer advocating for you is crucial in presenting the strongest case possible and obtaining favorable results.
Post-Divorce Modifications
Finalizing your divorce does not necessarily mean you are done interacting with the family court system. Certain orders are modifiable after a divorce has been finalized (i.e., after entry of judgment). The most frequently modified orders include spousal support, child support, and child custody and visitation, but other provisions in your family law judgment may require modification as well.
There are many reasons why orders may need to be changed, as circumstances frequently change after the passage of time. For example, a parenting schedule that was appropriate when a child was 2-years old may not be appropriate once said child is enrolled in school and extracurricular activities. Changes in the earnings of one or both parents or changes to the custodial schedule could impact the propriety of child support orders.
If you do not have child custody or visitation for a specific reason, such as unemployment, drug or alcohol abuse, or similar factors, you can request modification when major changes have altered your situation. For example, you previously had substance abuse issues, but you went to rehabilitation and have been sober for two years. The court may grant you visitation or child custody where they did not before you made these significant changes.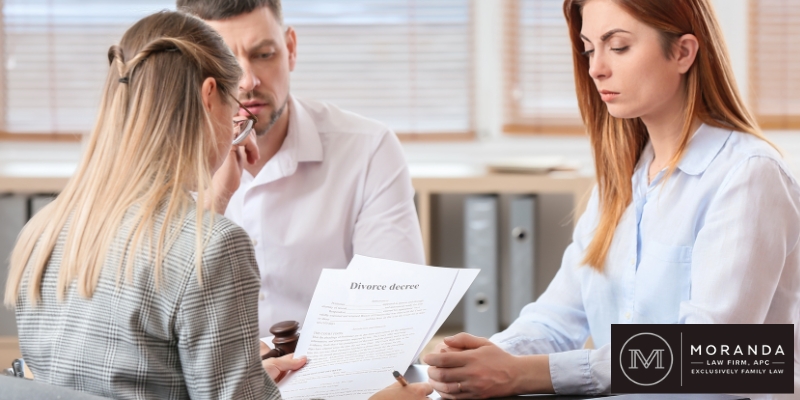 FAQs About Anaheim, CA Divorce Laws
How Much Does a Divorce Cost in Anaheim, California With a Lawyer?
The cost of the divorce process will depend on many different factors, including whether you have a contested or uncontested divorce, the expertise of your divorce attorney, the complexity of the issues presented in your divorce, the reasonableness of the parties and opposing counsel, and the length of time it takes to work through the process. Most attorneys charge hourly for divorce services. Therefore, the average cost will depend on the amount of work required in your case.
How Much Does It Cost to File for Divorce in Orange County, California?
The current filing fee in 2023 for the Orange Superior Court is $435. It is imperative that you file your paperwork correctly to avoid extra fees or the requirement to resubmit your application. This does not include the fees for attorney representation. It is important that you use an experienced Anaheim divorce lawyer through the duration of your divorce. This ensures that you execute the process correctly.
How Much Is a Retainer Fee for an Anaheim Divorce Lawyer?
Retainer fees vary significantly. Most retainer fees for an Anaheim divorce attorney range from $5,000 to $10,000. Your retainer is held in an IOLTA trust account for your benefit.
If the process costs less than your retainer, which is rare, your attorney will usually give the remainder back to you. Be sure to talk with potential attorneys about their retainer fees and overall cost to properly budget for your divorce process.
Is a Divorce More Expensive With Children?
Yes, usually divorces involving children cost more than divorces in which the couple does not share any children. This is because the court must go through child custody and child support negotiations if children are involved. This makes the divorce process longer, which typically increases the lawyer fees incurred. The least expensive divorces usually involve couples with no children and fairly simple assets.
Do I Need a Family Law Attorney for Divorce?
While having a family law lawyer is not required for the divorce process, it is best to hire legal representation. When you work with an Anaheim divorce law firm, you can be sure that you are going through the legal process in the best possible manner and protecting yourself and your future. Many people who do not hire attorneys end up with smaller settlements, poorer child support and spousal support agreements, and a questionable foundation for their new lives.
Expect a Client-First Approach With Our Anaheim Divorce Attorneys
No divorce case is the same. Through our experience, we understand the uniqueness of your situation and will represent you with that in mind. Trust our team to approach your case with the care and specificity it deserves. Moranda Law Firm, APC, offers the support and guidance you need to navigate your divorce case. Our firm is zealous in its care for your case and meticulous in its processing.
Whether you expect an amicable dissolution or a more contentious situation, we can help. To discuss your impending divorce with an experienced Anaheim divorce attorney, contact us today and schedule your free consultation with our firm.