Child Support Attorney in Anaheim, CA
Child support disputes are some of the most contentious cases resolved in the California family court system. When married parents divorce or unmarried parents separate, they must legally resolve custody and support for their children. These decisions cannot be resolved privately, and if you are facing a child support determination in the near future, the judge handling your case has the final say on every aspect of your case. You need legal counsel you can trust in this situation to not only provide reassurance as your case unfolds but also to ensure that you end up with a fair custody determination that truly serves your child's best interests.
The Moranda Law Firm, APC, has years of experience guiding Anaheim clients through the most difficult family law cases, including child support determinations. The team at the Moranda Law Firm, APC, limits its practice exclusively to family law. We understand the agony of child custody issues. We also know that many people facing child support determinations carry misconceptions about how the courts resolve such issues and what they can expect from their unique cases. We aim to provide the small firm attention you deserve with the big firm fight you need to handle your support determination as effectively as possible.
The team at the Moranda Law Firm, APC, limits its practice exclusively to family law, so you can expect we have experience in all facets of child support. Among the aspects of child support that we can help with include:
Establishing an initial support order
Modifying an existing child support order
Enforcing a child support order
Enforcing arrears
Why Do I Need an Anaheim Child Support Attorney?
Even the most seemingly simple cases can pose unexpected challenges as they proceed through the family court system. Representing yourself in a child support hearing is extremely risky, and many people are significantly underprepared to handle their cases without legal representation. If you want the best chance of ensuring the fairest possible support order for your child, work with an experienced Anaheim child custody lawyer who has the zeal and dedication to get you the best potential outcome.
The right attorney can provide valuable support and guidance through every stage of your case. You'll be able to rely on your legal team for advice through each stage of the process, from securing the financial records you must produce to the court to the final determination hearing. Moranda Law Firm, APC, can also help you revisit a standing child support order through the modification process if necessary after significant unexpected life events.
Child Support: Self-Employed Parents
While most working people can easily report their income with W2s from their employers, about 10% of Americans identify as self-employed. Some are independent contractors and others are business owners, but they typically do not have the same consistency in income that salaried or hourly employees earn. This can make it harder for them to report income to the court. It can also make it harder for the court to determine a fair amount of child support when a paying parent has fluctuating income.
Whether you are expecting to receive child support from a self-employed parent or are a self-employed parent bracing for a difficult child support determination, Moranda Law Firm, APC, can help. We provide the meticulous legal representation necessary to navigate your case with confidence. If you suspect a self-employed parent has hidden assets they have attempted to shield from your support determination, discuss it with one of our attorneys in Anaheim, CA. Trust us to secure the appropriate amount of child support.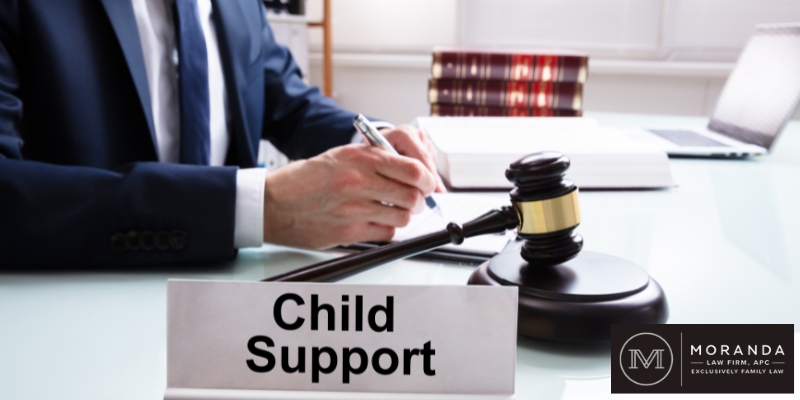 Child Support for High Earners
When the Anaheim court decides child support, the judge handling the case must make several calculations to determine what type of child support arrangement would suit the child's best interests. In most child support cases, a judge will examine:
The total cost of living for the child, based on where they are expected to live
The income of each parent
The total amount of support the child should reasonably receive from both parents
The custody rights of each parent
The unique needs of the child, such as medical conditions or disabilities
The judge typically calculates the total financial support a child should receive from both parents and then divides this number in half to determine each parent's support obligation. Then, the noncustodial parent, or parent with less physical custody than the other, must pay this amount to the custodial parent each month. While this seems straightforward, child support determinations for high-earning parents are often more complex.
A paying parent who is an extraordinarily high earner is typically expected to pay more in child support than whatever amount would satisfy their child's basic living expenses. The presumption is that the children have the right to enjoy the same lifestyle they would if they lived with their wealthy parent.
Ultimately, child support determinations between high-earning parents can potentially result in tens of thousands of dollars in support per month per child. It's vital to have experienced legal representation on your side if you are a high earner facing a difficult child support determination.
Changing Your Child Support Order
The family court system of California recognizes that life can present unexpected challenges and that a parent's financial situation could change unexpectedly due to forces beyond their control. The modification process exists specifically for such issues. If you have recently encountered any type of life event that materially influences a standing child support order, you have the right to request reasonable changes that reflect your new circumstances.
Some of the most commonly reported issues that justify modification petitions in the Anaheim court system include job loss, medical diagnosis, and catastrophic injury. If you are unable to adhere to the terms of your child support order through no fault of your own, you can petition for a change to the order. You cannot simply quit your job and claim you cannot afford to pay child support anymore. However, if you lose your job due to a severe injury that prevents you from working, this would be an issue beyond your control that would justify your petition for a modification of your support order.
Contact Anaheim Child Support Law Firm, APC, Today
Both initial determinations and modifications can be emotionally charged for child support cases. Whether you expect to pay child support, receive it from your co-parent, or are petitioning for an adjustment to your standing support order, the Moranda Law Firm, APC, can help. We have years of experience providing client-focused legal representation in the Anaheim court system and can help you determine the best strategy for your case.
If you're ready to speak with an experienced Anaheim child support lawyer, contact us today and schedule a consultation with our team.